Surface: Paved, 1 lane country road
Rating: Moderate
Length: 9.2 miles (one way)
Riding Time: 1-2 hours
Elevations: 1000-1500 feet
OVERVIEW
This ride follows the Klamath River on the far side.  There is less than 10 cabins or ranches on the entire ride.  This trip has a few elevation gains and descents.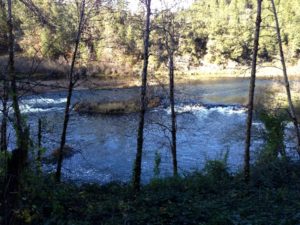 Mile 1.7 is a large turn-out with good views over the old mill site on the river.
Mile 4.8 the road is on high cliffs and there is a great view over the "Muck-A-Muck" mine site – now a ranch.
Mile 6.3 is the site of the original Gordon's Ferry.  The rest of the route follows the original path/road from Seiad Valley.  The ferry operated into the early 20th century until the first road was cut over Cade Mountain bypassing the ferry route.
Mile 7.8 is the entrance to a bird nesting area – It was once a large homestead.  The area is closed for nesting February into July.  Across the road are large limestone cliffs with several caves visible.
China Grade Road turns to dirt at mile 9.2.  The road continues for approx. 20 miles with the first half very steep as it crosses the mountains and descends into Seiad Valley.
GETTING THERE
Happy Camp is located on Hwy 96 approximately 70 miles West of Interstate 5. Parking is available at the Indian Creek river access just down river from the big steel bridge crossing the Klamath River at Elk Creek Road.  Or cross the bridge and park on the far side on the large shoulder.

View China Grade Rd – Road Biking Route in a larger map