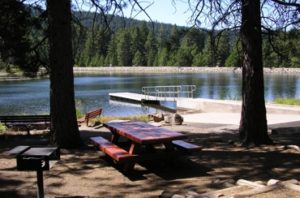 Rating: Easier Length: 11 miles Riding time: 1 ½ – 3 hours Elevation: High 5000', Low 4100'
The Ride: The best access to this loop is probably from Juanita Lake, where you start by heading south for a couple miles on the Juanita Lake road. Turn left onto gated, off-road 46n02. This is a two tracker dirt road offering 3 miles of easy-cursing downhill pleasure. These are excellent views of the Butte Valley, with occasional views of Mount Shasta. This is great wildlife country, with the possibility of seeing deer, eagles, hawks, owls, geese and other waterfowl. Soon you will intersect with Meiss Lake road. Follow this for about 2 miles to the paved road leading back up to Juanita Lake. From there, it's a 3 mile, steep uphill climb with very little traffic. You can also start the ride from the Butte Valley Wildlife Refuge parking lot. This gets the uphill climb over while you are still fresh. Juanita has a day use picnic area, which makes an ideal stop for lunch. Juanita also has 24 camping units with full hook-ups, pit toilets, piped water and a handicapped access, paved trail around the lake.
Getting there: Juanita Lake is an easy drive from Highway 97 in Butte Valley. From the south, it's 7 miles from the Ball Mt. Road intersection, located /1/4 mile south of the Goosenest Ranger District headquarters. From the north, turn off at Meiss Lake Road near Macdoel…it's 10 miles to the lake through the Wildlife Refuge.
Food, Lodging & Services: Macdoel Shell, Mt. Hebron Store & Black Butte Towing/Gas Station in Dorris all have mini-marts. Lane's Market in Dorris is a supermarket offering fresh meats. Restaurants include: A Slice of Heaven Café & Bakery, Primo's Pizza & Food Mart, El Ranchito, & El Tapatio in Dorris. Hot Momma's in Dorris offers great coffee drinks & smoothies. Fishing & hunting licenses available at Merrill Lumber Hardware Store in Dorris.

View Juanita Lake – Meiss Ranch Bike Route in a larger map