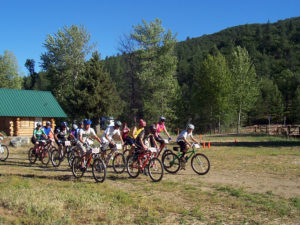 Greenhorn Park is one of the most beautiful and well used recreation areas in all of Siskiyou County. The newly signed trails offer hours of great mountain bike riding. Host to the Humbug Hurry-Up and many other local sporting events, Greenhorn is sure to have what you are looking for in outdoor recreation.
For more info on the Humbug Hurry-up event maps check out: jeffersonmountainbike.com
*Caution* Event rides such as the Humbug Hurry Up are intended to only be ridden during the supervised event. The event routes may contain hazards that are only made safe by event staff. For example, some routes may be high-speed traffic corridors, with no shoulder, that are closed to motorized traffic for the event. Further, some routes may be through private property that only have a public right of way access during the annual event. These routes are intended to only inform riders whom are planning on attending this event. To ride these event routes without event staff supervision is to ride at your own risk.

Humbug Hurry-Up from Ted Ketai on Vimeo.
Below are publicly available trails at Green Horn Park:

View Greenhorn Trails – Mountain Bike Route in a larger map